So if you didn't already know, the big color this spring is mint. I absolutely adore pastels and this mint green is no exception. For weeks, I have been searching for the perfect mint top. There are not many places to shop here in my little West Texas town so, I turned to the internet. It is here that I found (insert angels singing) the perfect mint top!
The top is from
Apostolic Clothing Co.
I have ordered one other time from them and loved it each time. Their website has so many adorable things! Fabulous skirts, tops, and jackets. Definitely check it out! I did have to wear a white tank top under this shirt because it it a little sheer. But the fit is perfect and also very comfortable!
This fun ruffle skirt has been sitting in my closet for at least a year now… No joke. I haven't really found the right top for it until now. I got it at NY&Company sometime last year. Hold on to those thing you've got sitting in your closets ladies! You never know when you'll need them! By the way, NY&Co is having a buy one get one 50% off plus an extra 30% off on top of that. I'm not sure how long it will last so check it out soon!
And last but not least, these color changing beauties are Jessica Simpson. In one light they look purple, but in another light they look green. Here is a similar style
here
but the colors are not the same.
I'd like to leave you with this thought before you go…
For beautiful eyes, look for the good in others; for beautiful lips, speak only words of kindness; and for poise, walk with the knowledge that you are never alone.
Remember, true beauty starts on the inside. With God by our side, we can never go wrong.
Carmen
xoxo
Linking Up with: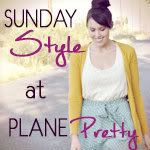 </>